Storm windows are not just to prevent damage from a Florida Hurricane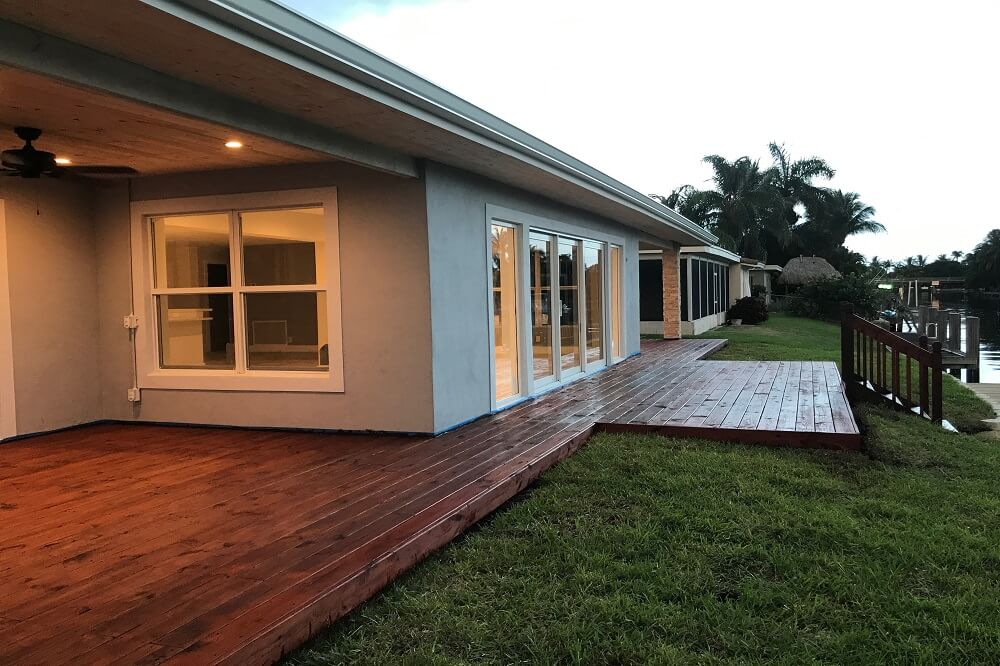 When considering what type of windows to purchase in Florida, the main debate is whether or not to upgrade that installation to storm windows. This may surprise you, but storm windows are not just for when there is a hurricane in Florida. Most people are concerned about Florida storm systems but neglect the security aspect of the windows and fail to include it in the decision making process. Let's consider some of the additional benefits of installing storm windows besides hurricane window protection.
Unlike regular windows, storm windows feature impact glass, which contains a layer of polyvinyl butyral (PVB) or ethylene-vinyl acetate (EVA). This coating makes the window shatter in a spiderweb-like pattern instead of breaking into large pieces, which can be a serious hazard to nearby people or during the cleanup efforts. It does this by splintering similar to a car windshield and requiring significantly more time and effort to penetrate.
When considering the tactics of a burglar, adding impact glass and the additional amount of strength and blows for penetration can disrupt an attempted forced entry. Burglars rely on ease of entry and speed of movement in order to conduct their robbery as fast as possible, avoiding detection and any counter-response. Faced with the added difficulty, the burglar could choose to give up on the attempted robbery all together, further protecting your family and assets. If they decide to proceed, they may ultimately gain entry, but the added time may be enough for an effective response from security teams or law enforcement. If you happen to be in the home when the attack occurs, it can give you the additional time needed to arm yourself and deal with the threat on your own before the authorities are involved.
With roughly a third of all break-in entries occurring through the front door, you want to make sure that your front entryway is extra secure. If you are looking for custom doors, double front doors, also known as double entry doors make for an extremely satisfying curb appeal look for the house. They also allow you to have a larger opening for moving in custom furniture and objects that would not fit through a custom single door. While you could consider decorative glass to surround the double front doors for the look, remember the strengths of treated glass and consider adding storm windows to improve the overall security of the entryway.
Hurricane Impact Windows and Doors
Living in South Florida, residents and snowbirds alone are more than familiar with tropical weather and the devastation it can bring, making hurricane impact windows and doors and essential accessory of anyone's home. Hurricane impact windows and doors from STS are offered in Single Hung, Double Hung, Horizontal Roller, Awning and Casement, or any custom style from the industry's top brands and from only authorized dealers. Doors include entry, French, sliding glass as well as custom styles, all rated to withstand the force of a hurricane. STS is licensed and insured, ensuring your hurricane impact windows and doors are installed properly and give you the most value for your dollar. During Hurricane season, tropical storms are a common occurrence, and having hurricane impact windows and doors for your home is both a smart and practical practice to prevent catastrophic weather damage from destroying what is important to you.
How STS Impact Windows and Doors can help
When searching for window companies near me, look no further than STS Impact Windows and Doors. STS Impact Windows and Doors has over twenty years of experience in the industry and proudly serves South Florida with the finest quality products available. They stand firmly behind their window repair and window glass replacement, offering a 5-year installation warranty and satisfaction guarantee on their products. The threat of a hurricane in Florida may be seasonal, but the threat of robbery exists all year long. Call today to see how STS Impact Windows and Doors can provide superior service and protection for your family by installing storm windows today.