Impact awning windows are ideal for climates with substantial amounts of rain, thanks to the way the window creates a water-resistant awning when opened. Great for storage areas, garages basements and hallways.

This window type has hinges on the top, and they open outward from the bottom. Opening in this manner allows the hurricane window to be constructed of solid glass and offers a less obstructed opening and view. Installing Impact windows also provide the maximum amount of light and egress. When closed and locked, awnings can make an effective seal to improve energy performance. Awnings just like casements should not open out into traffic lanes or high traffic streets.
Awning Windows Features:
Hinged on top and opens outward from the bottom
Multi-point locking system for added strength and security
Removable screen
Colonial grids available per request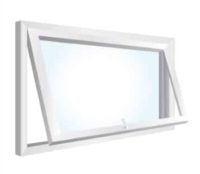 Do they reduce sound?
In addition to protecting your home from exterior damage, impact windows decrease the level of noise from the outside. If you live near a busy intersection or highway, you know how disrupting and distracting outside noise can be. Installing impact windows is an easy way to reduce the amount of outside noise.
What are the design advantages of Awning windows?
This is a single sash window, such as casement windows that are not hinged on one side. A hand window that opens and horizontally closes the window on a metal road. This window design makes it easier to work for areas that are difficult to navigate, such as cabinets, sinks, and bathrooms. Windows in the probability of being opened in cloudy weather are partly standard. The interior of the house is insulated from heat since the windows hang out and create an awning effect.
Are Aluminum Awning Windows Safe?
Aluminum Awning windows and externally open windows allow ventilation without rain or falling leaves. The window is displayed inside, where the elements are more protected. Aluminum Awning windows also work for cellars as they can be widely positioned on the wall and function quickly with a handle switch. They are a perfect choice for combining with unoperated frames, such as a picture window above or below, as store windows appear to be smaller than double pins, cases, or sliders.
Project-Out Widow Variations
Anderson Awning windows are generally opened with a hand crank and hung atop to open externally, also known as Project-Out Windows. It is named because the glass covers the opening like a marquee, allowing ventilation in all weather. Sometimes, they are also termed as vinyl awning windows.
When the windows require access to be unlocked, such as the kitchen sink or fridge, its window sizes are a perfect option. In addition to their versatility, they provide the ideal esthetic decorations above or Marvin awning windows that offer the potential to position them in virtually any home design.
Removable awnings or Pella awning windows also help cover indoor furnishings, polishing, and deteriorating artwork. The large variation move from partial to full protection by pressing a button, switch, or remote control. Why could this happen? Not by chance, as some housewives would have assumed the Danny DeVito-type salesmen of the 1950s. The internal cable and tubular engine frame remove or stretch the marker according to your choice.
Which color and type will fit your property?
Although most of the awning style windows are solid colors or designs, tiles are available for your home's furniture in different textures and types. When you want to stand out in your tents, use luminous or complementary colors to the exterior of your house. If you are inclined to subtlety or if you do not want the markings to be a priority, consider selecting colors that match with the paints, trimmings, or decorations of the exterior of your home. Extras such as contrast paint, scallops, keyhole valances, and tassels will highlight a surface that would otherwise be drab.
Not every home depot awning windows designed in the same way and every feature is unique. Perhaps you would like to cover a deck that gets heavy sun at the end of the day while you wind and fire the bbq, Or you may wish to see marshes on vinyl awning windows or doors that create intense heat during morning hours, which allow the air conditioner to run nearly all day long.
There are the simple awnings, like everything else, and there are the awning replacement windows with all the bells and flashes. You can get marshes, which can withstand rain, wind, some snow, and even hurricanes. Retractable type may be used by hand or powered by a cord, radio, or non-radio engine. Additionally, there are MP3 speakers, heaters, and sensors. Of course, you can also install gazebos, pergola, or an arbor if you're not interested in awnings.
FAQs
Do awning windows have screens?
These windows hang on top and open outwards so that sunlight is required without leaves or drops. Inside the window are screens that are shielded further from the elements.
How do awning windows work?
The function of an awning is to regulate your home's façade, especially glass pieces, by the amount of solar energy. Up to 80% of direct heat on the window is blocked by an outer shade, which results in a reduction in heat transfer immediately
Is our awning windows energy efficient?
With hinges at the rim, awning windows create a reliable, airtight seal when sealed so that maintenance savings are often minimized with improved energy usage. Awning type windows have a single sash without any dividers, much like sliding glass.
Are our awning windows secure?
In an open location, an awning window may be closed. It ensures that if you choose to require airflow and not risk your home protection, you are an excellent window option.
Are awning windows expensive?
Thanks to their comparatively limited dimensions, awning windows are typically less expensive than other styles of windows. The quality of window pieces, such as frames, shall decide the costs. A window usually costs from $320-$550.
Do awning windows open all the way?
The most ventilating and natural ventilation provided by awning and casement windows of all window styles. That's how they can expand entirely externally – up to 90 degrees at times. They work well in bathrooms, kitchens, and cellars, which need much of the sunlight and air.