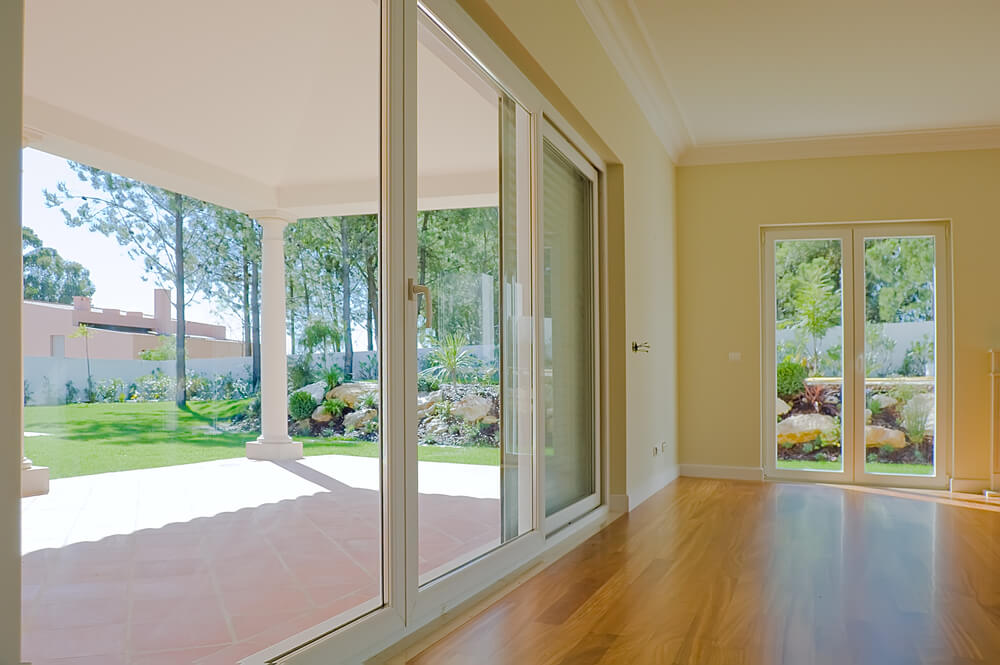 You'll find the perfect impact french door to compliment the style of your home. Please choose from our wide selection styles, colors, brands, designs, and layouts. A specific picture comes to mind when you hear the words "French door." Most of us imagine a considerable portion of the glass, which can also be called window grids or divided lites, divided into smaller panels. More than just a point of entry or departure, this door an attractive way to fill your house with natural light and has more than its charm.
We offer impact French Doors in both in-swing and out-swing fittings. In South Florida, French Doors will be out-swinging. When selecting doors for your home, be sure to plan extra space around the door swing. Unlike pocket doors and sliding glass doors, These doors require more room to operate. Take the width of the door and lay out a radius around the pivot point on both sides of the jamb to see how much space you'll need to allow.
An STS specialist will cover all these details in your free consultation so you will have the perfect fit for your home.
Variations you can choose from
Design options include window types, glass types, the material of the frame, color, and size. We offer standard styles that are readily available to fit standard door openings and custom options that suit unique and older spaces.
Single or double doors with or without sidelites available
Full frame or narrow frame sidelites
Concealed 2-point locking system provides added security
Uses industry-standard hardware for handle and deadbolt
Privacy glass available
No screens
Colonial grids available per request
Multi-point locks available
What about crime, are they safe?
Not only does the strength of our glass keep you safe from hurricanes, but it also makes burglaries much harder and more unlikely. Our impact windows, with their two layers of glass and interlayer, make break-ins difficult.
Where can you place french doors?
Both interior French doors and exterior doors are used in dividing two rooms, French closet doors used for such doors are convenient because they require privacy and a visual link between two locations. The French door's exterior is frequently opened onto a deck or patio and can be used with a door framework for displays. Interior French doors are often situated on the threshold between the dining room and the kitchen or living room. Sometimes, curtains and shutters are mounted to offer more protection, much as an outside window does. The most popular style is divided-glass pane or prehung French door.
You can also acquire home depot French doors on your own to fit your dwelling place, whether your home is traditional, modern, rustic or shabby. A difference in the thickness of the lower track is between a standard French patio door and a French door. French closet doors are generally wider than the top and bottom, making it a distinct look. Modern design variations with screens don't require grids to be a French door.
Are Impact French doors energy efficient?
Their energy efficiency is another great feature of these widows, whether they are Anderson French doors home depot french doors. Both of them are manufactured in dual-pane glass suitable for the local climate. In cold environments, though, the additional glass may be added in French sliding doors, sacrificing heat energy or hot situations, which lose power in the form of refrigeration. When your house is maintained at a comfortable temperature, older patio doors can be leaky and unreliable.
Providing the charm your home deserves
Impact French doors are certainly an excellent means to bring your home a certain degree of charm, elegance, and class. This is why these days they are so popular. The most popular approach is to build a beautiful route through the garden at the back of a house and, at the same time, help to draw in the world by providing a fantastic view.
FAQs
Why is it called a French door?
You might think they 're called French doors because they come from France? Well, you 're very right. But there is more to this. In the 17th century, French doors emerged. In the course of the Renaissance, it emerged in an era where new ideas were growing and changing in art and architecture.
What is considered a French door?
A lightweight door, usually one pair, with glass panes covering much of its length. These may also be labeled French doors.
How do the French doors and patio doors are different from each other?
Which every one opens, is the principal distinction between french and patio doors. French doors open on a hinge while the doors in the patio are opened to the side and slid along the wall. The doors in the courtyard are more conventional and perhaps more suited to a contemporary and urban house.
How much do French doors cost?
The cost of installing French doors starts at approximately $400, and labor costs vary at $75-$180 dollars per entry. An average price of $525 or higher expected. This depends on the construction costs of the window in your area.
Should the French door open in or out?
They are available both inside the opening and outside opening. It is often widely believed to take up more expansive space, the French gate that opens inward. When you want to optimize space inside the building, get outward-open French doors.
Are French doors more expensive than sliding doors?
The average cost of the French patio doors is more than sliding doors, but depending on the choices you chose, the expenses of both doors will differ significantly. Nonetheless, the average cost of building any door is $475-$1,291, which is very high.
Are French doors safe?
French doors can appear as a simple entrance to robbery, but if adequately guarded, they are no danger and allow you to enjoy their beauty without any worries. While they attacked more often, they are no easier to protect than the door to your house.
How easy is it to break into French doors?
While French doors can be a safe option and, in most cases, are more reliable than sliding doors. It's much harder to crack a poorly designed French door than a well-made French one. French external doors with an excellent 3-point locking mechanism should be mounted.
Do French patio doors come with screens?
Yes, the French door may have screens. Since French doors are either swing in or swing out, Phantom screens do not interfere with their features. It would help if you were within or outside the doors so that security, bug protection, and shade can be improved.
STILL NOT FOUND WHAT YOU WANT?