WinDoor high-performance doors can make all the difference to the aesthetics and the safety of your home. From custom sizing and coloring to enhanced safety ratings, WinDoor prides itself on expert construction, elevating your style at the same time. So, what's the WinDoor difference? We're here to show you how WinDoor high-performance windows and doors work in both the functional and aesthetic elements of your home's design, and the protection it offers alongside its custom availability.
Why WinDoor High-Performance Doors and Windows?
High-performance doors and windows are a South Florida essential, they bring innovation and design style into the hurricane impact windows and doors industry. Time and time again they have shown that safety and security don't come at the expense of style—and you want both for your home. With over 20 years in business, they have refined the quality of their product and become leaders in the luxury industry and at STS Impact Windows & Doors we are proud distributors and installers of WinDoor.
Hurricane Resistance
Hurricane season can be devastating for Florida, so ensuring that your home or office is well protected is of the utmost importance in building design. However, there is a balance to be found between style and protection. Your space still needs to be inspiring and energizing year-round and offer all the benefits of hurricane protection when it's needed. Moreover, hurricane-resistant windows add value to your home, making them essential for luxury living.
Doors and windows are the key points for damage and wet weather entry in a storm. You need to have glass that can withstand heavy weather without risking damage to your property's interior. High-performance windows and doors do just this, and they don't sacrifice style to do it. WinDoor hold themselves to the highest safety standards and it ensures nationally recognized third-party assurances to confirm construction quality. Their products hold several safety and construction certifications, with their aluminum products being ASTM, Miami-Dade, AAMA, and TDI approved.
Impact windows and doors are designed for what storms can throw at them. This includes debris, wet weather, and rapid changes in pressure. Even if regular windows and doors can take a few hits before shattering, water can still enter the property once the glass has failed. WinDoor high-performance windows are designed to meet, and in many cases exceed, the industry safety standards.
Custom Style
Custom style is essential. No two homes along the coast are alike, and this means there's no one size fits all when it comes to windows and doors. Even more importantly, you don't want technical specifications getting in the way of your home or commercial property design. WinDoor have worked with several architecturally inspired designs, breaking the boundaries of traditional design thought. Floor-to-ceiling and wall-to-wall windows can open up a space and remove any obstruction to the view your property offers, bringing the outdoors in. This opens up a host of new innovative design opportunities with ease.
WinDoor offer several paint and finish choices: Bone White, Bermuda Bronze, Clear Anodized, Black, Southbeach Silver, and Velvet Grey; and in premium wooden finishes, they offer Hazelnut Brown, Mahogany Red, and Walnut Brown. These can be paired with any of their glass options, from clear to frosted to light green and blue hues.
Each style of door can also be accounted for. Pivot doors, estate doors, and sliding doors are just the start. They can be fit to custom sizes, allowing you to create doors that work for your space instead of the other way around. Whether it's a main entrance door or patio doors to your yard, you can benefit from hurricane-resistant and intruder-resistant levels of safety.
The same impact resistance extends to WinDoor high-performance windows, also. They make the only impact-resistant product currently on the market, available in custom sizes up to 10' tall or 40 square feet in total. The trend of creating a cohesive interior and exterior blend has never been easier, and windows instead of walls adds to this modern, innovative style. It is triple-laminated, seamless, and custom fit to whatever space you require.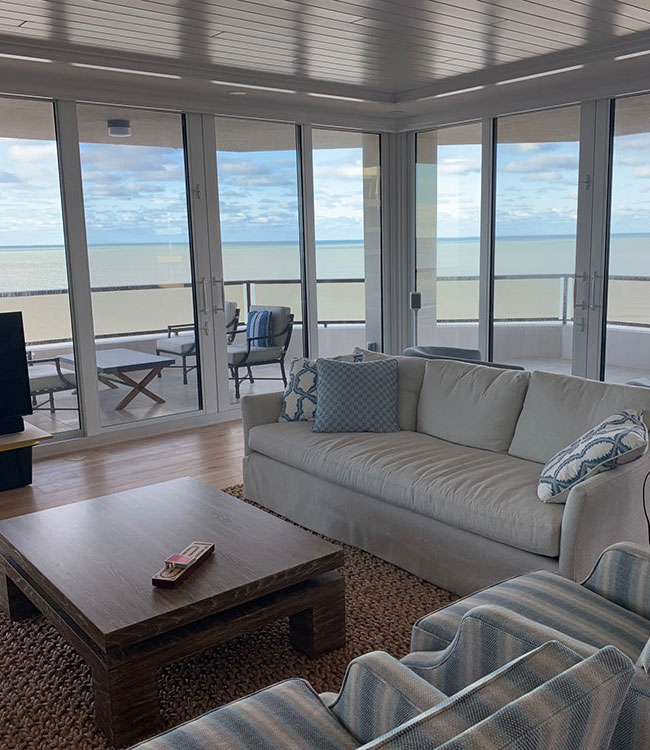 Made in the USA
WinDoor high-performance doors and windows are manufactured here in Venice, Florida, entirely in-house with a team of experts. They understand the demands of Floridian weather and strive for quality and expert craftsmanship in every project.
They use quality materials, with a focus on Diamond Glass—an ultra-lightweight glass that's thin, strong, and rated to protect against UV rays, hurricane winds, and intruders. They continuously innovate on impact glass to bring the industry forward into the next generation, and this is evident in every custom piece they collaborate on.
They understand the aesthetics and the drive for homes with unobstructed sea views or landscapes that add to the interior of a home, so options like bay windows are available with the enhanced hurricane-resistant protection included.
Entry Options
With custom doors comes custom entry options. You're not limited to just a key and a keyhole—WinDoor high-performance doors are available with several handle and entry options. The Minneapolis Lever and Deadbolt comes in Satin Nickel PVD, Venetian Bronze, and Black finishes, complete with a sleek and clean lever and deadbolt.
The Minneapolis Deluxe Handleset is available in the same finishes, but with a touch of sophisticated style on both sides. Another step up, you can add an electronic door pad for entry in addition to the standard lever and pull handle.
WinDoor High-Performance Windows and Doors in Boca Raton
High-performance doors and windows require expert assembly and installation. At STS Impact Windows & Doors, we want to put your mind at ease. With years of experience in the hurricane impact windows and doors industry we'd love to work with you on your next project to create a space that's protected, inspired, and expertly assembled.
There are many facets to creating a home that is ready for hurricane season, including garage doors, and we're here to help you ensure that you have all your bases covered.
Let's get you started on securing your home from the coming storms.